The August 2010 Daring Cooks' Challenge was hosted by LizG of Bits n' Bites and Anula of Anula's Kitchen. They chose to challenge Daring Cooks to make pierogi from scratch and an optional challenge to provide one filling that best represents their locale.

My take on the challenge is a little something I like to call "Louisiana Meat Pie Pierogi". It was the result of two terribly failed attempts at making traditional pierogi and turned out surprisingly good. Crunchy on the outside, with piping hot, meat pie filling on the inside, these pierogi (pierogis?) are a throwback to the meat pies that I grew up eating every time I visited my grandparents in Louisiana--just in adorable, miniature, pierogi-fied form.

Because these challenges are all about learning something new and stepping out of your comfort zone, I do want to show you a little bit about my previous attempts at the dish. The original recipe that I attempted was a traditional, potato-filled pierogi, whose major difference from the meat pie pierogi lies in the fact that they were boiled, like pasta, rather than fried, like meat pies.

The filling itself included mashed potatoes, onions, cottage cheese, egg, butter, and bacon (which I replaced with pancetta).
Then, after making the dough—which is actually incredibly easy—I cut out the rounds of dough with a way-too-small cookie cutter, then filled each one with a teaspoon of the potato mixture.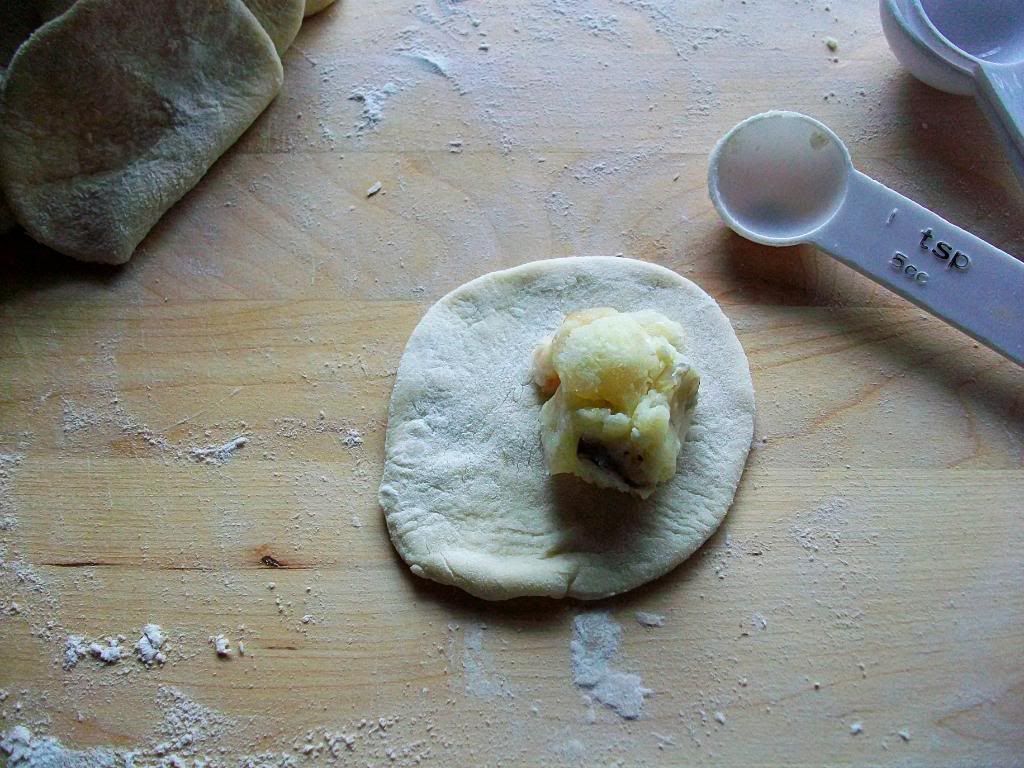 After sealing and boiling these beauties until they floated for a bit, I ended up with these…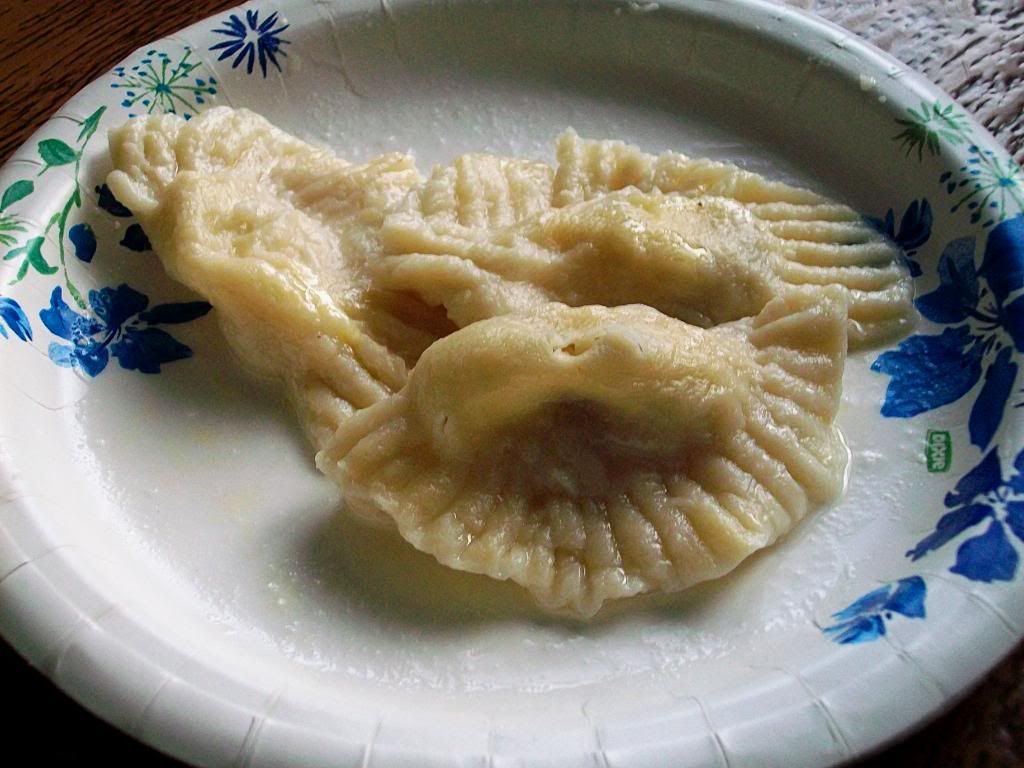 Not so purdy, right?

A few days later, I tried browning them in a pan instead.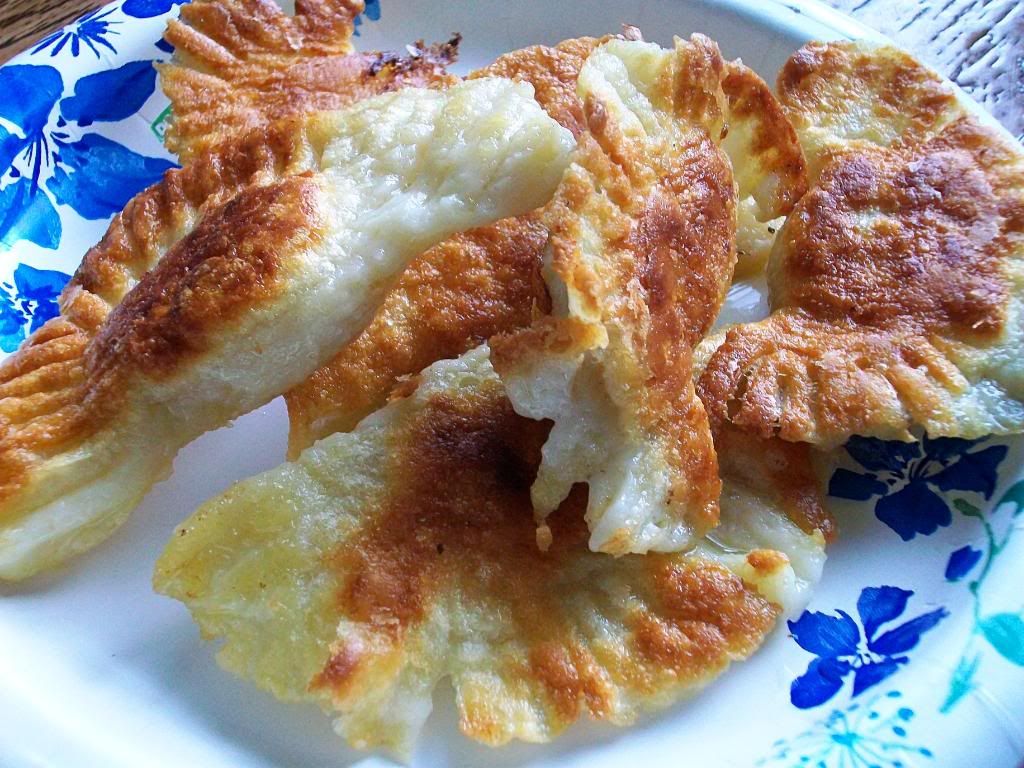 This batch was better, but they just didn't "wow" me. Especially when boiled, the dough was very bland and I thought I could do better.

So, I put on my thinking cap for a few days and let that idea marinate. I knew that I wanted to try frying the pierogi, but I wasn't sure if I wanted to go with the same filling. Thinking about my favorite pierogi/empanada/meat pie-style foods was what brought Louisiana meat pies to mind. Composed of ground beef, ground pork, green onions, and garlic, this is a really simple, really tasty filling for my pseudo meat pies.

Before I started my filling, I made the dough--which needs to rest for 30 minutes. It's just egg, water, and a pinch of salt, combined with flour.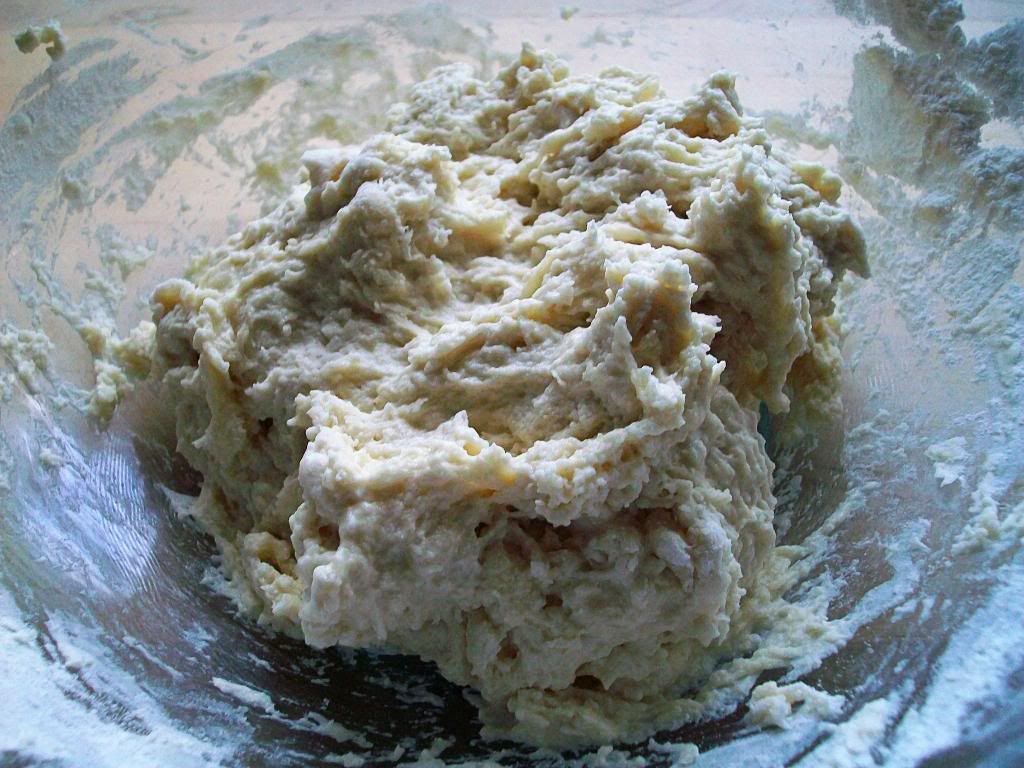 While the dough rested, I chopped up some green onions and garlic…


…grabbed some ground beef and ground pork…


…and cooked it all up in a pan, sauteing the onion and garlic first.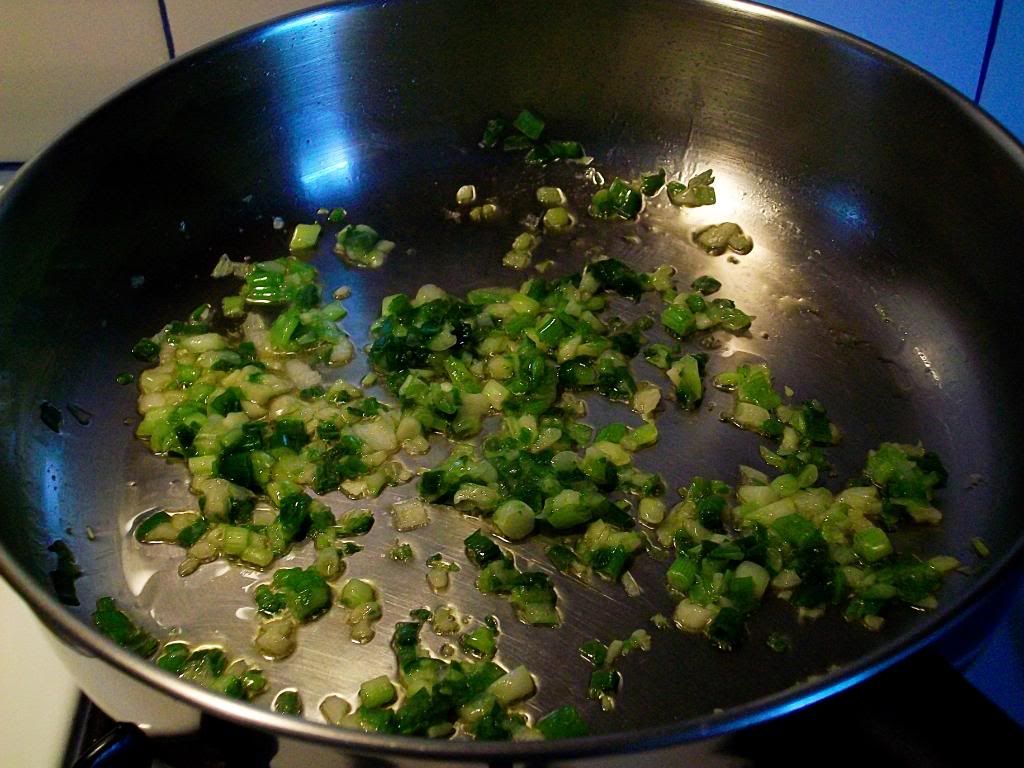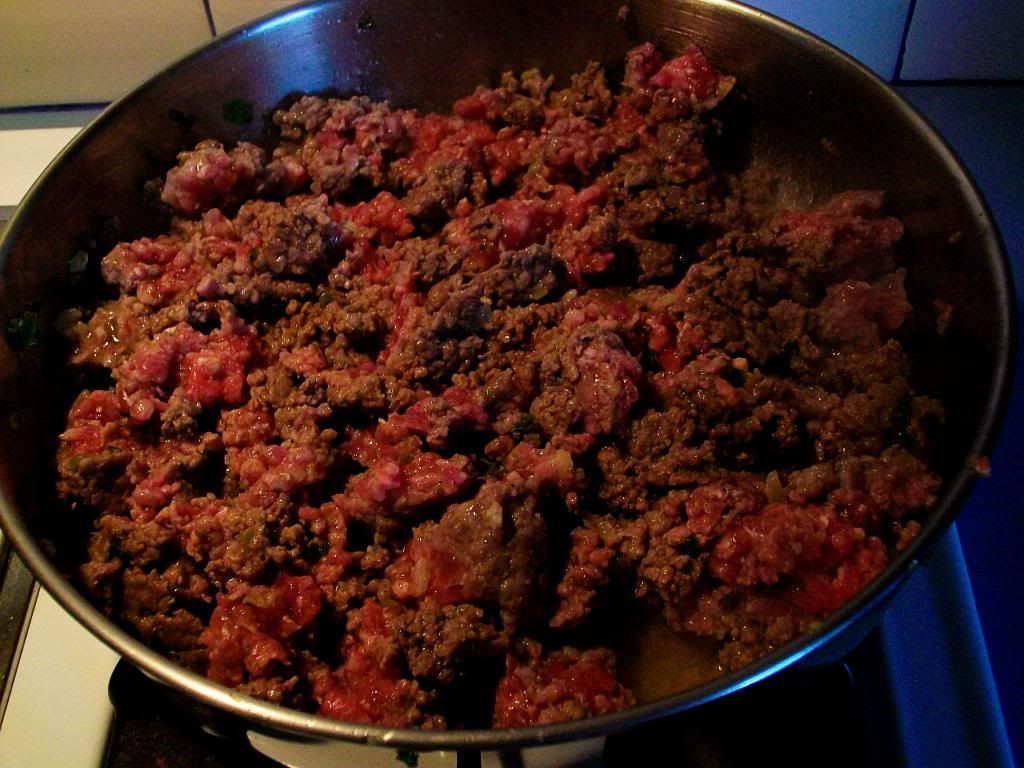 After that was all cooked up, I rolled out the dough and cut it into circles using a large glass, which allowed for a little bit more filling.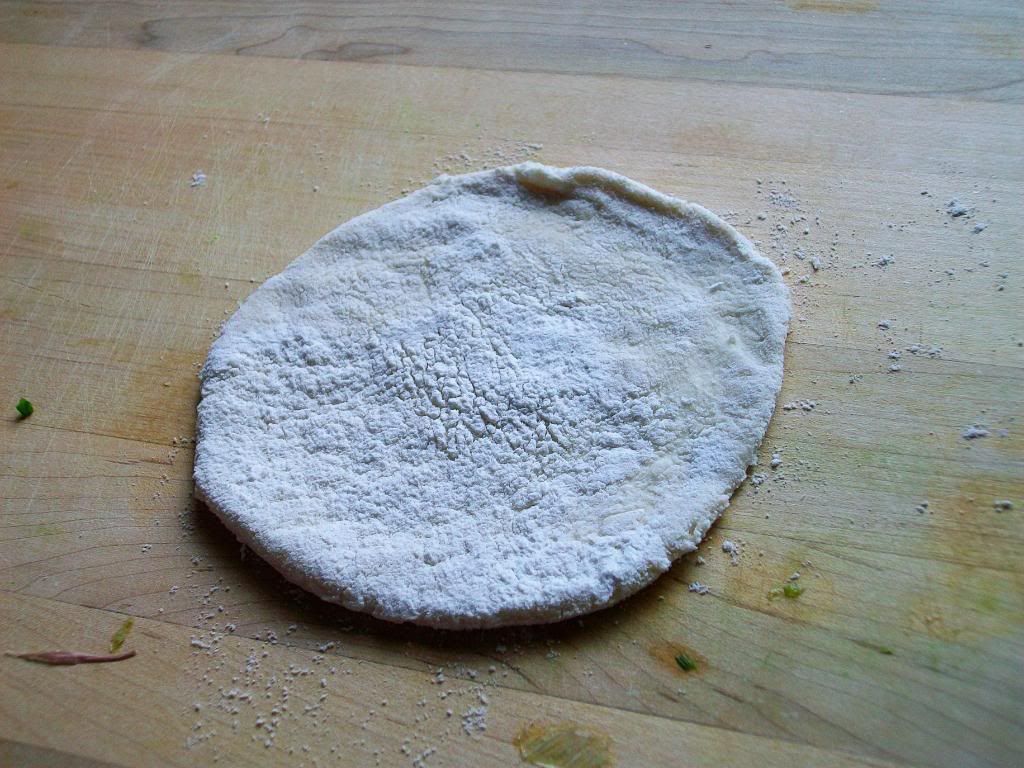 I added about a tablespoon of the filling…


…and sealed it up, using a fork to crimp the edges.


Now comes the major difference between my version of pierogi and traditional pierogi…the frying. Honestly, after boiling and browning gave me disappointing results, I resorted to frying because I

knew

that it would taste great. When in doubt—fry.

That may just be my new motto.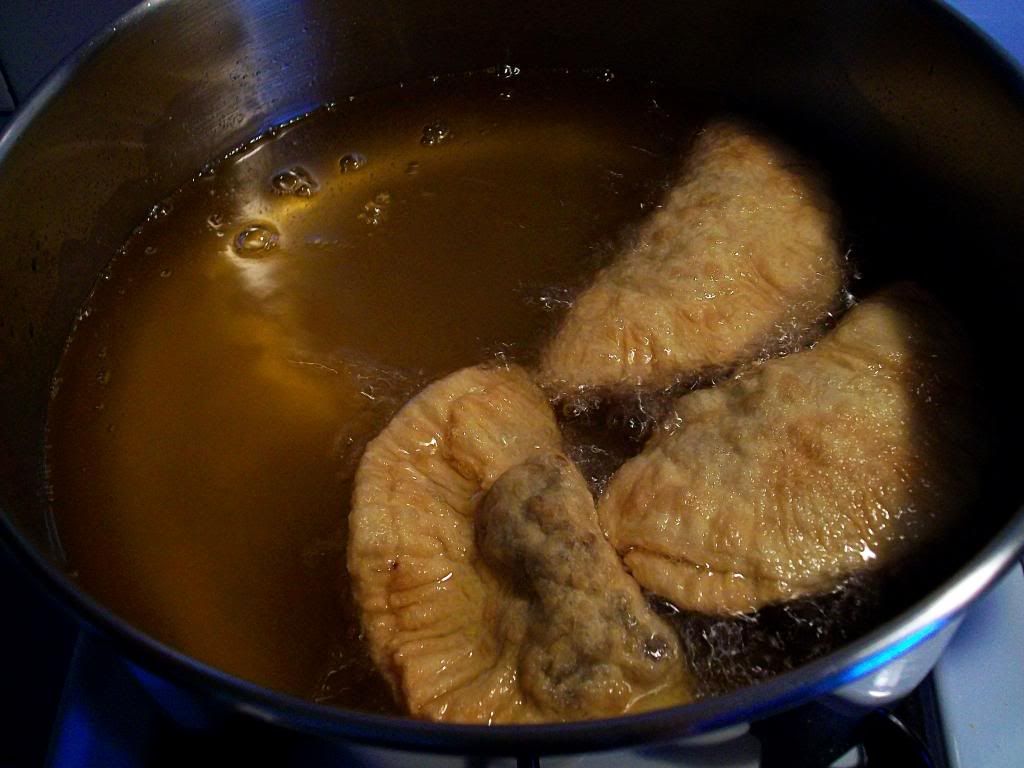 After a quick dip in some hot vegetable oil, these beauties came out noticeably better than their boiled counterparts. The dough was crispy and crunchy, opening to reveal the meaty filling with a little poof of steam. All in all, I thought they were a great, albeit slightly unorthodox, version of traditional pierogi.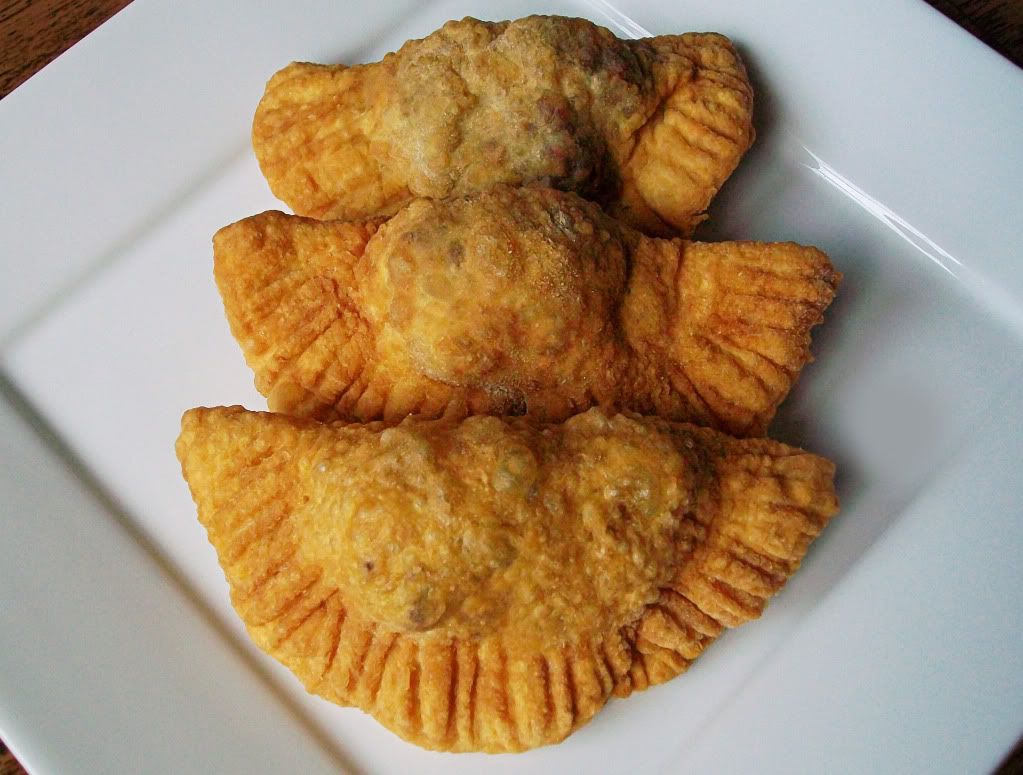 Louisiana Meat Pie Pierogi
Printable Recipe
Filling
Recipe adapted from "Natchitoches Meat Pies" and "Meat Pies" from "Cane River Cuisine"
1 ½ pounds ground beef
1 ½ pounds ground pork
1 cup green onions, chopped
2-3 cloves garlic, finely chopped
1 tablespoon salt
1 teaspoon freshly ground pepper
½ teaspoon cayenne pepper
1/3 cup all-purpose flour
Dough
Recipe adapted from "Russian Style Pierogi" by Anula of
Anula's Kitchen
2 to 2 ½ cups all-purpose flour
1 large egg
1 teaspoon (5 ml) salt
About 1 cup (250 ml) lukewarm water
Place 2 cups flour in a large bowl or on a work surface and make a well in the center. Break the egg into it; add the salt and add the water, a little at a time. Bring the dough together, kneading well and adding more flour or water as necessary. Cover the dough with a bowl or towel. Let rest 20-30 minutes.
Combine ground beef, ground pork, onion, garlic, and seasonings in a large pot. Cook over medium-high heat, stirring occasionally until the meat is cooked. Add the flour, stirring well to combine. Remove from heat and cool to room temperature.
On a floured work surface, roll the dough out thinly and cut with a large glass. Spoon a portion of the filling into the middle of each circle. Fold dough in half and pinch edges together or crimp closed with a fork. Gather scraps, re-roll and fill. Repeat with remaining dough.
Heat enough vegetable oil in a large pot to cover the pierogi, about 3 to 4 inches deep. Once hot, add the pierogi in batches, being careful not to crowd the pot. Turning once, cook the pierogi until golden brown and crisp. Place cooked pierogi on a large plate, lined with paper towels to absorb excess oil. Repeat in batches as necessary.
Serve warm.