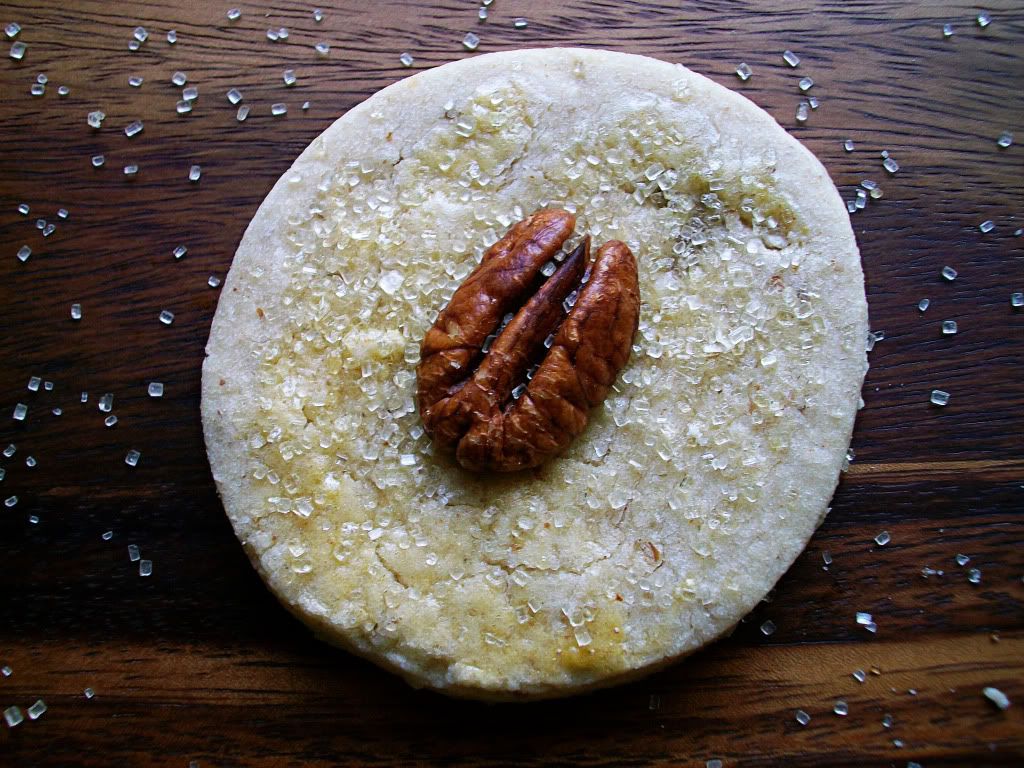 Oh shortbread, how I luffles you.
What can really be said about these little beauties, these little circles of nutty delight? Too much, and yet, not enough. They're light and soft, with just a hint of pecan and maple to make your taste buds go "Oooh!" All I can say is, as soon as they came out of the oven I gleefully tasted one…then another one, and another one.
And another one.
Yes, I nibbled my way through four of these puppies before they even had a chance to cool off. I'll have you know that I was stressed. That's a perfectly good reason for buzzing through a handful of cookies. It wasn't anything important, just lots of those little, nagging annoyances that build up on you. Things like a raging thunderstorm making it too dark for step-by-step photos, or having "I'll Make a Man out of You" from

Mulan

stuck in your head the entire time you're baking these cookies. Not to mention the fact that your mother keeps trying to get you to talk about

Butch Cassidy and the Sundance Kid

on your blog, just because she had a crush on Robert Redford and sang "Raindrops Keep Fallin' on my Head" for her fourth grade talent show.
By this point, not only are you nibbling on your fourth shortbread cookie, you're also coming to the grim realization that you just

did

discuss

Butch Cassidy and the Sundance Kid

on your blog. That's what happens when you're raised by a mother who has a degree in clinical psych. These things are implanted in your subconscious and then just pop out into your train of thought. I tell ya, it's a battle you just can't win.
Now that you've been sufficiently boxed into a psychological corner, why not make some of these cookies to boost your morale? They work wonders, they really do.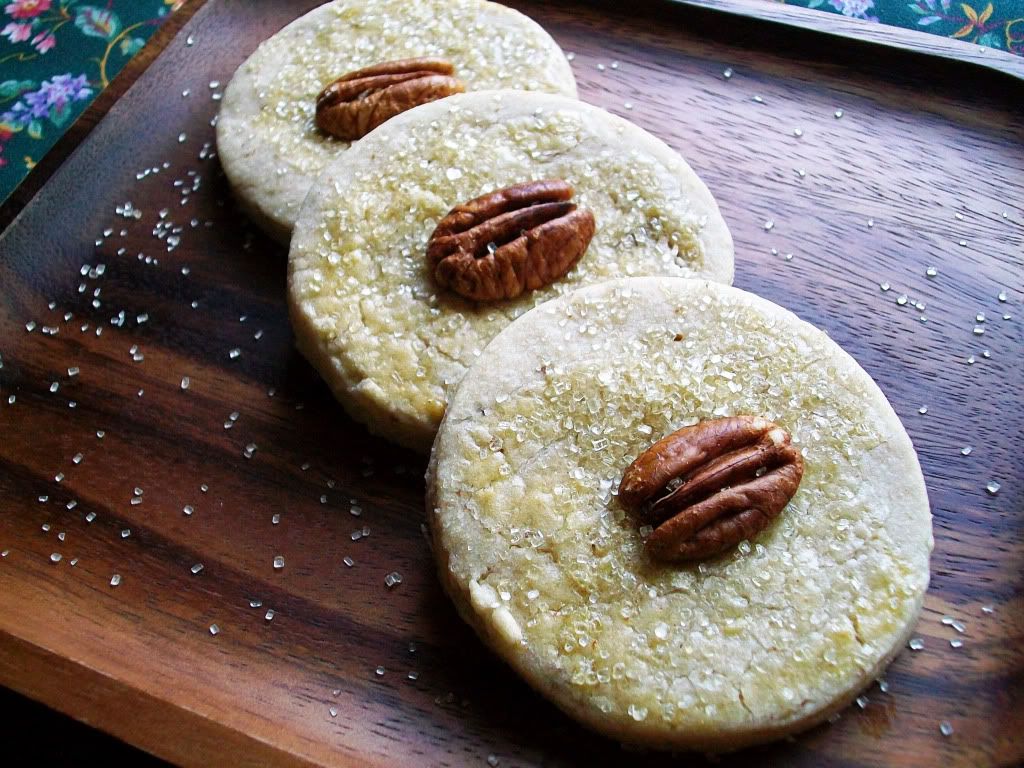 Maple Pecan Shortbread
Recipe from

"

Maple Pecan Sandies

"

by Nutmeg Nanny
Printable Recipe

2 ¼ cup all-purpose flour
½ cup cake flour
½ teaspoon salt
½ cup pecan halves, finely chopped
24 whole pecan halves
2 sticks unsalted butter, room temperature
¾ cup granulated sugar
¼ cup maple syrup
1 large egg yolk
¼ teaspoon pure maple extract
1 large egg, lightly beaten
Turbinado sugar, for sprinkling
Sift flours and salt into a medium bowl. Whisk in chopped pecans and set aside.
In the bowl of an electric mixer fitted with the paddle attachment, or using a handheld mixer, cream butter and granulated sugar on medium-high speed until light and fluffy, about 1 minute. Add the maple syrup, egg yolk, and maple extract; beating on medium speed until well combined. On a low speed, gradually add the flour mixture, beating until just combined. The dough should be smooth and pliable. Flatten the dough into a disk, wrap in plastic, and chill until firm, about 1 ½ hours or overnight.
Preheat oven to 350 degrees and line two baking sheets with parchment paper or nonstick aluminum foil.
On a lightly floured work surface, roll out the dough to about ¼ inch thick. Cut out rounds using a two-inch cookie cutter or a glass and place one inch apart on a baking sheet. Brush the tops of the cookies with the beaten egg and place one pecan half in the center of each cookie. Sprinkle the entire surface with turbinado sugar.
Bake cookies until golden around the edges, about 10-12 minutes. Store in an airtight container at room temperature up to four days.